08 March 2023
With its over 400 decors, Arpa Industriale offers plenty of choice to design your residential or commercial environment. Over the last few years, architects and designers have particularly appreciated its high quality surfaces to create multiple table models. Discover five different tables, destinated to home, office, hospitality and more, made with Arpa materials.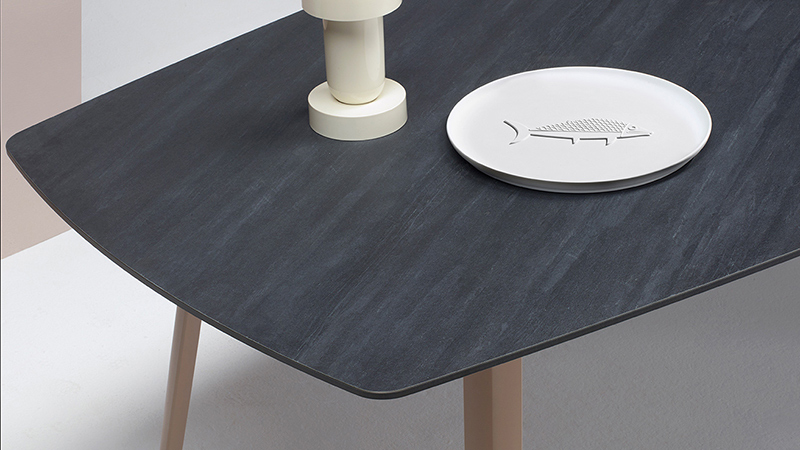 Coffee table by Pedrali
Ideal for a hospitality room or a contemporary home living space, the set of two coffee tables designed by Pedrali presents the innovation of VIS technology. Increasing wear resistance and organic components, this engineered surface has been introduced by Arpa to give more value to the material's tactile and texture experience. For its coffee tables, Pedrali chose 3478 Oya decor combined with the brilliance of the "shiny droplets" featured by Mika finish.
Jumbo desk by Giuseppe Leida Associati
As part of The Giò Collection, the GLA's elegant desk draws inspiration from the elephant shape. The first piece of Jumbo was created for a Lake Como's client, and it sees the refined dialogue between wood and Arpa materials. "I needed a tabletop reminiscent of those leather desktops from the 1930s, but with more of a technological twist-something comfortable that would offer a different tactile experience to wood." To reach this goal, the architect Leida uses Italian walnut for the table's structure and Arpa Nero decor embellished with the weave of Tex finish.
Big Brother table by Maurizio Peregalli
The strong emphasis on texture which characterises ZEUS–the studio founded by Peregalli–is the signature of the Big Brother Table. Well-fitting both with a classic and a contemporary style, Arpa's 3294 Rust surface of the top gives the space a warm feeling, pleasantly accompanied by the haptic comfort of Flatting finish. The black frame of the table's legs further enhances the natural intensity of the decor. "With this table I tried to foresee what the ZEUS customers might require: quality products with artistic surfaces that highlight their uniqueness," says the designer.
Meeting room table by Molino11
Giving refinement and creativity to the office ambience, Molino11 designed a meeting room table made with Arpa 3408 Munè Black in Losa finish. The vibrant channelling of slate stone interpreted by this premium finish adds great naturalness and personality to the workspace. Supported by solid T-shaped legs, the long table with its inspiring stone aesthetics turns into the very protagonist of the room.
Squid table by S-CAB
The peculiar squid-shape legs make S-CAB table a beautiful combination of streamlined and sturdy design. Signed by Radice Orlandini Design Studio, the Squid table presents a solid hollow structure in aluminium which allows to support a range of wide and thin tops made of Arpa. The office model is available in 3397 Cimant Gray decor in Urban finish and in FENIX NTM® Nero Ingo. While the artistic texture of stone of 3482 Samas in Urban finish, enriched by VIS technology, and 3408 Munè Black in Losa finish, give elegance to home and retail environments.