23 February 2023
In recent years, the ribbed trend has got back to attract the attention of architects and interior designers worldwide. Reclaimed by the masters of modernism who had made it a protagonist of the design scene until the 1970s, this particular surface seems to reflect the harmony of contrasts that characterised those years and that it is aimed to achieve again today. The regular and continuous repetition of waves, indeed, creates a play of visual and tactile alternations that transmits dynamism to the environment and, at the same time, establishes a solid equilibrium.
Among the novelties for 2023, Arpa Industriale has introduced a new family of surfaces: the Deep Surfaces. Launching the category, Tuet was previewed to the public during SICAM 2022. Through the elegance of movement and the variety of applications, this new creation for interiors allows to discover all the charm of ribbed design.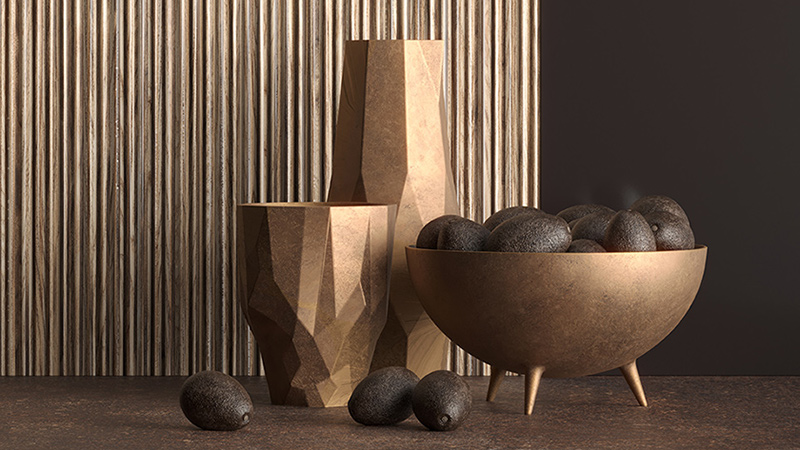 Inspired by the Piedmontese reedbeds running along the Tanaro river, Tuet gives projects the intensity of a dark and light structure. The light, immersing itself into the waves of the deep surface, transforms each furnishing scene into a work of vibrant contrasts.
The space is articulated by the deep geometric rhythm of the "reeds" which animate the design creativity both visually and tactilely. On the one hand, the wood grains enhance the dark and light contrast, on the other, they define a soft and pleasantly undulating tactile experience. The overall result is a dance of sinuous textures, where the repeated "twirls" of Tuet's reliefs form an atmosphere of natural and dynamic well-being.
Tuet's waves can be arranged in both directions, favouring different sensations of movement and spatial extension: from the bathroom to the kitchen to the living room. Giving an enveloping and balanced energy to environments, Tuet easily adapts to different styles by being combined with two new decors, Caravella Light and Caravella Dark.