Due to a cuttlebone shape, the "empty" legs of Squid table—designed by Andrea Radice and Folco Orlandini—allow to support tops made with Arpa surfaces in a sturdy and streamlined way.

Presented for the first time at Salone del Mobile di Milano 2021 and winner of Archiproducts Design Awards in the same year, Squid confirms its success thanks to the ability to evolve over time and adapt to multiple environments. Its creation posed a great challenge for both Italian furniture manufacturer S-CAB and Radice Orlandini Design Studio, responsible for designing the table. Specializing in seating design, the two collaborated in the study of a table capable of maintaining continuity of style and elegance by presenting different characteristics based on the ambience that hosts it.
From residential spaces to restaurants, offices and contract projects, Squid features four hollow aluminium legs which take on a particular cuttlebone shape, hence the name. These become the unique skeleton of a table range, whose wide, thin tops are made with Arpa high quality surfaces. The new extendable Squid model was launched during Salone del Mobile 2022.
"Since the request was to have aluminium legs, we needed to figure out a way to avoid material waste and to not end up with an excessively heavy product. So, together with S-CAB, we came up with the idea of employing a technology used for radiators and we created cuttlebone-shaped legs," Orlandini explains. In fact, by being hollow, the "tentacles" of Squid give the table a strong but likewise manageable structure, allowing to support large tops. Always refined in its thinness, and different in its geometries and textures, the table tops are suitable for numerous application possibilities.
The rectangular Squid model, with its most recent extendable option, is ideal for offices and co-working areas. It is available in the brushed version with Arpa 3397 Cimant Gray decor in Urban finish, as well as in the matt and soft touch FENIX NTM® Nero Ingo option which has cable ducts integrated. The more sinuous model widens at the center and gives domestic and restaurant environments a creative element. This is emphasised by the artistic texture of stone with 3482 Samas in Urban finish and 3408 Munè Black in Losa finish. In particular, the Squid table with Samas top is enriched by VIS technology which increases its resistance thanks to the mineral components.
"When we are entrusted with a project, we want to feel like its parents, to 'grow' it from the first design ideas to production and future evolutions. Unfortunately this is not always possible. However, it did happen with S-CAB. From their preliminary request of a large laminar table, we started a shared path of contamination and exchange of ideas that led to the birth of Squid," says Radice. Initially, S-CAB had commissioned the two designers to reinterpret an archive piece, whose characteristics, however, would have prevented it from properly combining sturdiness and thinness. The strength of Squid is precisely that: a vigorous and practical structure that supports a thin but highly resistant stylish top.
Authorship, irony and improvement are the engines of Radice and Orlandini's research. From the originality of the structure, the elegance of the surfaces, to the irony of the cuttlebone-shaped legs, and the functional properties of the various models, Squid profoundly expresses their philosophy. "We didn't create with S-CAB a table but rather a table system that leaves open great possibilities for new developments," the two designers say.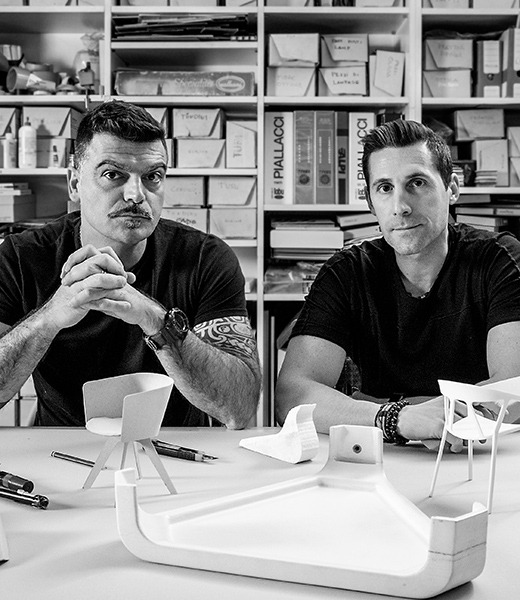 Radice Orlandini Design
Andrea Radice and Folco Orlandini graduated from Politecnico of Milan, respectively in Industrial Design and Architecture. In 2008, they founded Radice Orlandini Design Studio. Since then, they have collaborated with many Italian and international design companies. Their research, mainly focused on seats for interiors and exteriors, is based on the key concepts of authorship, irony and improvement. The two designers believe that a design product must reflect a personal and customizable taste, go beyond the mere object's meaning, and offer a real development in terms of functionality and aesthetics. Among numerous recognitions, Radice and Orlandini have received three Good Design Award by Chicago Athenaeum.
Decors used in the project