Juventus, one of the most important Italian football clubs, combines novelty and history in its headquarters thanks to the elegance and comfort of Arpa surfaces.
Architects Davide Mosconi and Sara Di Benedetto of LEM Agenzia Architettura – who designed the Headquarters and Training Center for Juventus within La Continassa area in Turin, the Milan offices and the Hong Kong branch – tell how the use of Arpa high quality surfaces gave the project's innovative design a sense of refined and comfortable hospitality.
Photo credits
: Courtesy of Juventus F.C.
The request of the Piedmontese club focused on a very clear vision: they wished to embrace the authority of traditional values by creating a dynamic and absolutely contemporary environment. "Starting from the Headquarters, located in a 1600s former agricultural complex, it was essential to find innovative design solutions that fit harmoniously and respectfully into the ancient architecture hosting them," explains Mosconi. Furthermore, LEM aimed to recreate a new work environment that would allow the club team to feel welcomed, being able to "perceive change as a natural and human transition". By combining the classic elegance of wood with Arpa décors in Alevé and the velvety appearance of FENIX innovative materials (created by Arpa in 2013) – obviously in the team's black and white look – the architects managed to achieve these objectives.
Throughout the venues, the design features angular shapes, bold and clean lines, accentuating the contrast of colours and the team's sense of rigor. In this atmosphere of formal cleanliness and innovation, the integration of Arpa surfaces becomes decisive for the balance between novelty and history. Arpa décors in Alevé finish – 4603 Eucalipto Birmania for the storage walls of the Headquarter and of the Milanese offices, and 4539 Olmo Mercurio for those of the Training Center – add a classic wood element which, according to LEM, plays a crucial role within innovative interiors by making people feel anchored to something warm and recognisable.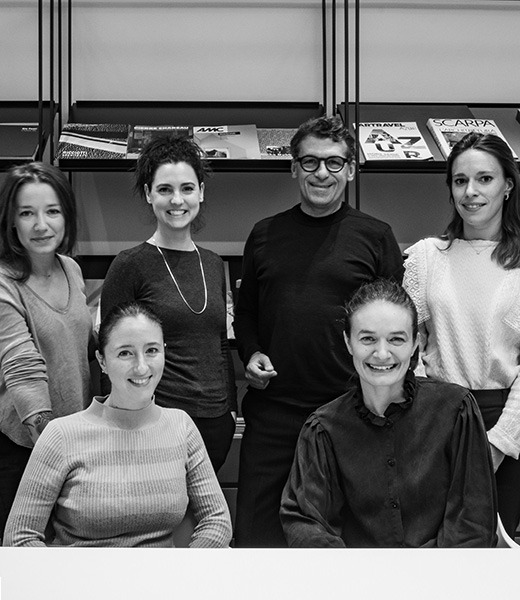 LEM Agenzia Architettura
Founded in 2018, LEM Agenzia Architettura takes its name from "Lunar Excursions Module", the exploration tool for astronauts. The team of professionals, including founder Davide Mosconi and architect Sara Di Benedetto, defines itself as a group of space travelers always looking for new explorations between architecture and design. Focusing on residential projects, showrooms, restaurants, offices, fashion and exhibition spaces, LEM loves to surprise its customers by experimenting and creating environments that combine traditional and innovative materials.
Decors used in the project