Our objective is to reduce our environmental footprint. To do so, we measure our impact using the Life Cycle Assessment (LCA) methodology. Although we look broader than that, our main focus is on CO2 emissions. At Arpa, our aim is to cut emissions by 50% by 2026, and to become carbon neutral in the years that will follow as we did for FENIX® in 2021.
To continuously improve our carbon footprint, we work on a number of projects, which includes increasing the efficiency of production processes and find better alternatives for the resources we need.
And we regularly monitor the progress on all projects. We are transparent about the results and we publish them in a yearly report, which is available online for everyone to read.
To summarize: We measure. We act. We monitor. We share. 
MATERIALIZING SUSTAINABILITY
Sustainability is not something you dream about, but something you do. It's about acting. This is why Arpa always takes actions that provide a 'win' for the environment, our business, our company and our clients. This is how we continuously improve and materialize sustainability. Sustainability at Arpa is about common sense, a fact-based approach and complete integration in the business planning. It is not about achieving zero impact in the production process but about durability and a cradle-to-gate approach. Especially, sustainability is about creating the products and materials that are so important to people that there is no need to replace them.
SUSTAINABILITY INSIDE
Our sustainability policy is based on a deeply felt motivation to shift from 'being less bad' for the environment to being 'good' and creating new value.
Do No Harm. We will comply with safety, product and sustainability regulations and guidelines set by the countries in which we operate. We are focused on materializing opportunities that minimize the environmental impact of our operations and products.
Do Good. We will support our suppliers and customers in realizing their sustainability challenges. We will continue to look for opportunities and initiatives to support and promote longer-term sustainability beyond the direct scope of our current operations.
Do Better. We believe that investing in sustainability should be beneficial to the long-term position of the company. Many sustainability challenges constitute good business opportunities that will allow the company to continue to grow.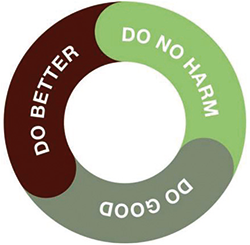 HANDS ON
Materializing sustainability requires a realistic vision, hands on action and integrated approach in the entire company. We have defined 3 principles that shape our way of thinking and acting:
Common Sense. We use a common sense approach in addressing the topic of sustainability. We believe that sustainability is a balancing act between "zero impact" and over-functionality. In other words, it means working to reduce the impacts without losing sight of functionality. (Figura 1)
Fact-Based Approach. We believe that you cannot manage what you do not measure. Addressing sustainability and environmental protection starts with the quantification of the impacts. Though the Life Cycle Assessment (LCA) methodology, we measure three key environmental indicators: water footprint, global warming and primary energy demand.
Integral Part of the Business Planning and Review Cycle. We set our priorities based on the LCA studies and on realistic but challenging targets. All of our sustainability initiatives have been integrated into our rolling business planning and review cycle.
THE DRIVERS TO ARPA'S PRODUCTS SUSTAINABILITY
The main driver to sustainability: Durability. Durability represents the very starting point of our sustainability strategy. The longer the product lasts, the longer the period of time to spread the environmental impact associated with the production of raw materials and the manufacturing process. By implying fewer replacements, long-lasting products entail less use of resources, lower emissions of pollutants and a smaller amount of waste than short life-span goods.
The exceptional quality of all our products is a result of this vision, as they are, by definition, very durable, long lasting materials.
Building-up on Durability: Cradle-to-Gate Approach. We aim to further build on durability by making the manufacturing of our products more and more sustainable through the reduction of the impacts arising from the cradle-to-gate part of our materials life cycle – from raw materials extraction to our plant gate.
WHAT WE DID SO FAR
Our Learnings and Progresses. Over the past years we put a lot of effort in embracing a sustainable approach by measuring and improving our environmental impacts. Since 2010, our energy and water consumption has been reduced by 20 and by 48%, respectively, and the share of landfilled waste has dropped from 58% to 15%.
The Contribution Analysis of our Manufacturing Process. Each manufacturing step of the laminates' production contributes to a different extent to the total environmental impact of our laminates. The picture below, based on the results of our last LCA study, shows the contribution of the main manufacturing stages (as a percentage over the total materials production's impact). Such contribution is in turn split (doughnut charts) into the share attributable to production process itself (the energy and water consumed, waste produced and emissions generated on site) and the one due to the materials used.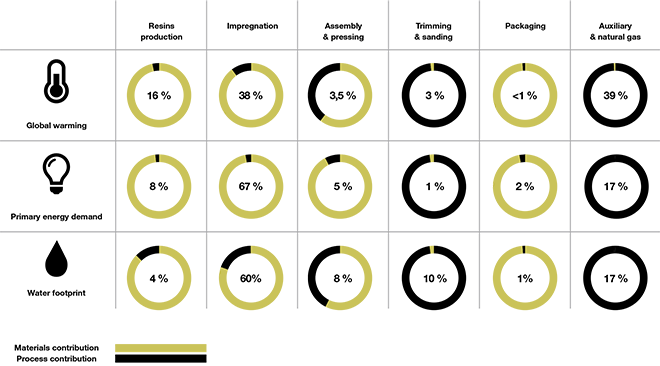 WHAT IS AHEAD: SUSTAINABILITY ROAD MAP TO 2022
Cradle-to-gate Targets. We plan to implement a series of activities and projects which will probably reduce our environmental impact (compared to the 2016 results) as follows:
Global warming: -11%
Primary energy demand: -10%
Water footprint: -8%
Such activities range from making our manufacturing process more and more efficient, to using and developing, wherever possible, bio-based chemicals, to choosing the least energy-intensive raw materials.
Beyond the targets. We aim to educate our stakeholders in sustainability and encourage them to embrace a consistent approach to sustainability. In the next 5 years, we will reach out to the suppliers that contribute the most to our impact, to explain them our ambitions and goals and to find with them opportunities that will help us to meet our targets.  Moreover, trainings and regular updates will be given internally to inform all our people of the initiatives we undertake to lower our impact and to enhance our efforts towards environment protection.
At the same time, we will put continuous efforts to increase the accuracy of our LCA data, by collecting inputs for our LCA model from our suppliers directly instead of retrieving average data from databases and by further improving the accuracy of data collected in our plant.