At the entrance of a building firm, located in the neighbourhood of Chalgrin, the three-dimensional surface of the walls takes over the space spectacularly, forming an immersive structure composed by white-triangles mosaics. The Milanese studio WOOD-SKIN, founded by young designers, architects and engineers, collaborated with the French agency Quadri fiore Architecture to create this design artwork made of Arpa high quality surfaces.
WOOD-SKIN tells the "impossible" story behind the bio-inspired shapes of their Tailor Made panels, which look like the gentle invasion of a surrealist creature. Blending digital manufacturing and proprietary technology, these panels consist of two sheets of rigid material connected through a textile core which allows for wonderfully flexible surface design.
Why did you ​​decide to create breathtaking walls in relief to welcome the workers of a Parisian company?
The client's desire was to create a feeling of wonder and softness that gently welcomes workers and visitors. We like working in symbiosis with the design studio and, to satisfy this concept, we helped Quadri fiore Architecture to explore various expressive possibilities with aesthetic and functional results. Thanks to our proprietary process, it was possible to transform rigid matter into surfaces that behave like fabrics and become three-dimensional walls, embracing anyone who walks by them.
A lot of technology and manual skills coexist in this project. How relevant are they in the success of your young multidisciplinary team? And how important is it to preserve the evolution of both of these forces?
The relationship between physical and digital matter, between craftsmanship and robotics is the combination on which our design philosophy is based. We do not fit into the system that forces us to present new products continuously, but we focus on process innovation to achieve the impossible. WOOD-SKIN comes from an extensive experience of traditional craftsmanship, then brought into the digital age to interact fluidly with the computational design methods, fundamental in today's architecture. For us, technology and manual skills coincide perfectly in an effort towards full integration of artisanal and robotic knowledge.
You define your systems as surfaces with articulated and organic shapes: geometries that mirror the natural world. In your way of designing and building surrealist environments, what role does nature play?
For us, nature plays a fundamental role as an unlimited source of more or less complex geometries. Parametric design is a process emulating biological systems and natural phenomena. It is the design grammar with which it is possible to conceive and create the free and irregular shapes of our products.
Why did you choose Arpa high quality surfaces?
We select our suppliers with great attention, based both on sustainability criteria and on the quality of the offer. Arpa is often the choice of our customers even before ours. It is a historic company known worldwide.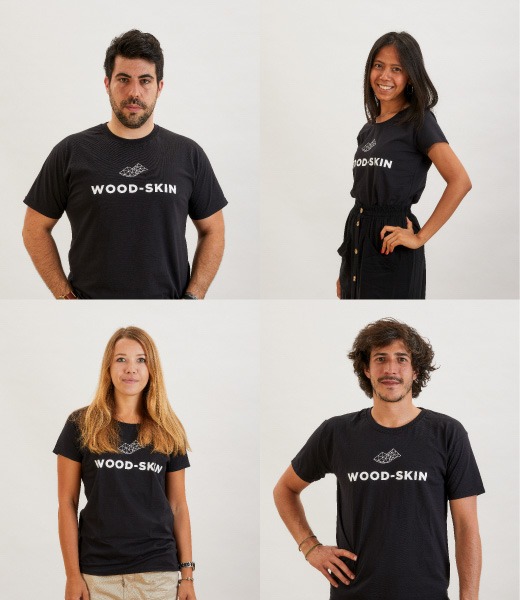 WOOD-SKIN
WOOD-SKIN was founded in 2013 in Milan with the aim of offering an innovative design in which sustainable materials and state-of-the-art technologies enhance the teamwork of designers, architects and engineers. The use of proprietary software and practices has allowed the studio to combine digital graphics and architecture, creating three-dimensional surfaces that are flexible and adaptable to multiple design requests. The WOOD-SKIN panel, composed of two rigid sheets and a fabric heart, opens the horizons to new and tailor-made architectural and living spaces, from the most classic to the most experimental. The panel's creation reduces the environmental impact thanks to the digital simulation of manufacturing processes.
Decors used in the project